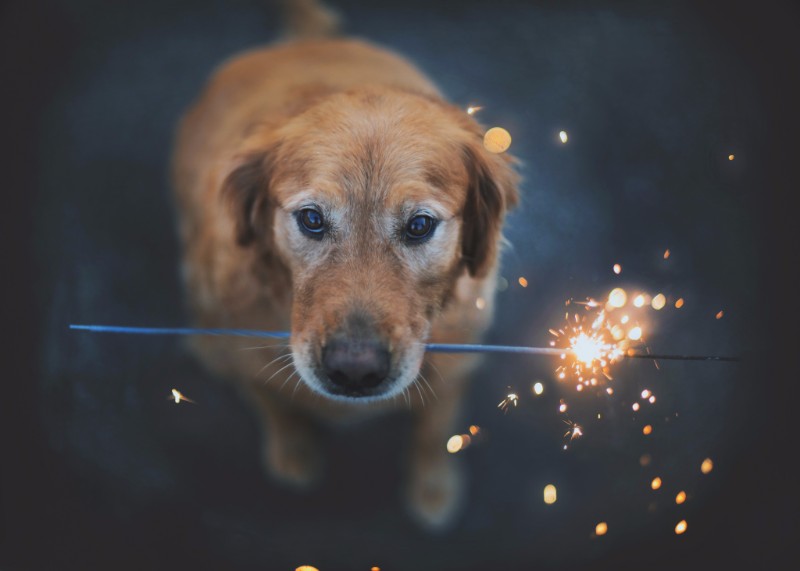 Four Tips to Keep Your Pets Safe on the Fourth of July:
More dogs go missing on July 4th than any other day of the year. Why? Fireworks. Dogs simply do not associate intense explosions and bursts of fire with America's independence. Our traditions are beyond their comprehension. For them, it's a frightening experience that triggers a natural instinct to escape. And according to PETA, dogs have"jumped fences, broken chains, torn through screen doors, and even leapt through glass doors in a desperate effort to escape." Unsurprisingly, animal shelters are bombarded with reports of missing pets and an influx of lost dogs and cats following fireworks displays on the 4th of July each year. Many animals who disappear are never found again.
You can help protect your pets by taking the following precautions:
1. Never take pets to fireworks displays. Instead, keep them indoors. It doesn't matter how well behaved your dogs are. It doesn't matter that you can walk them without a leash and they'll obey your every order. When a dog hears the bang of fireworks, it's a natural reaction for them to take off, without ever thinking twice about it. If anyone in your household is staying home, have them spend a little extra time with your pets. It will be a great comfort to them.
2. Make sure your pets are wearing ID tags. Microchips are always a good idea, but an ID tag on their collar or harness makes for a much quicker return.
3. Close your windows, curtains, and blinds. Frightened dogs sometimes attempt to jump through windows, even on upper floors.
4. Turn on the TV or radio. This will help to drown out the sound of fireworks explosions and keep your dog calm.
We wish everyone a safe and happy 4th of July!!!